Adobe Illustrator

Adobe Illustrator has firmly established itself as a market leader in digital illustration and graphics.
This course will helps the students to develops the skills for creating, managing, and editing vector artwork.
Gain a sound introduction to the concepts of vector graphics and their implementation within the design process, and learn best practice approaches, which boost your productivity.
| Course Name | Duration | Entry Requirement | Fee (SGD) |
| --- | --- | --- | --- |
| Adobe Illustrator | 15 hrs | Basic Computer Knowledge | S$450 |
For alternate time slots, please call 63360244/96503505
Course Content
Module 1: Workspace
Workspace basics
Customizing the workspace
Tools
Tool galleries
Files and template
Using multiple art boards
Viewing artwork
Rulers, grids, guides, and crop marks
Undo, Redo
Module 2: Drawing
Drawing basics
Drawing simple lines and Shapes
Drawing with the Pencil tool
Drawing with the Pen tool
Editing paths
Perspective drawing
Tracing artwork with Live Trace
Manually trace artwork using template layers
Symbols
Drawing flares
Module 3: Color
About color
Selecting colors
Using and creating swatches
Working with color groups
Adjusting colors
Color Panel
Module 4: Painting
About painting
Painting with fills and strokes
Live Paint groups
Brushes
Transparency and blending modes
Gradients
Meshes
Patterns
Module 5: Selecting and arranging objects Tools
Selecting objects
Grouping and expanding objects
Moving, aligning, and distributing objects
Rotating and reflecting objects
Locking, hiding, and deleting objects
Duplicating objects
Module 6: Typing
About type
Creating text
Creating type on a path
Scaling and rotating type
Spelling and language dictionaries
Fonts
Formatting type
Line and character spacing
Character and paragraph styles
Module 7: Reshaping objects
Transforming objects
Scaling, shearing, and distorting objects
Reshape using envelopes
Combining objects
Cutting and dividing objects Clipping masks
Blending objects
Reshaping objects with effects
Creating 3D objects
Module 8: Creating special effects
Working with effects
Drop shadows, glows, and feathering
Creating sketches and mosaics
Graphic styles
Module 9: Creating Web Pages
Web Page Designing
Practices for creating web graphics
Slices and images
Module 10: Printing
Setting up documents for printing
Printing color separations
Printer's marks and bleed
Printing with color management
Printing gradients, meshes, and color blends
Printing and saving transparent artwork
Overprinting
Print presets
Module 11: Keyboard shortcuts
Customizing keyboard shortcuts
Default keyboard shortcuts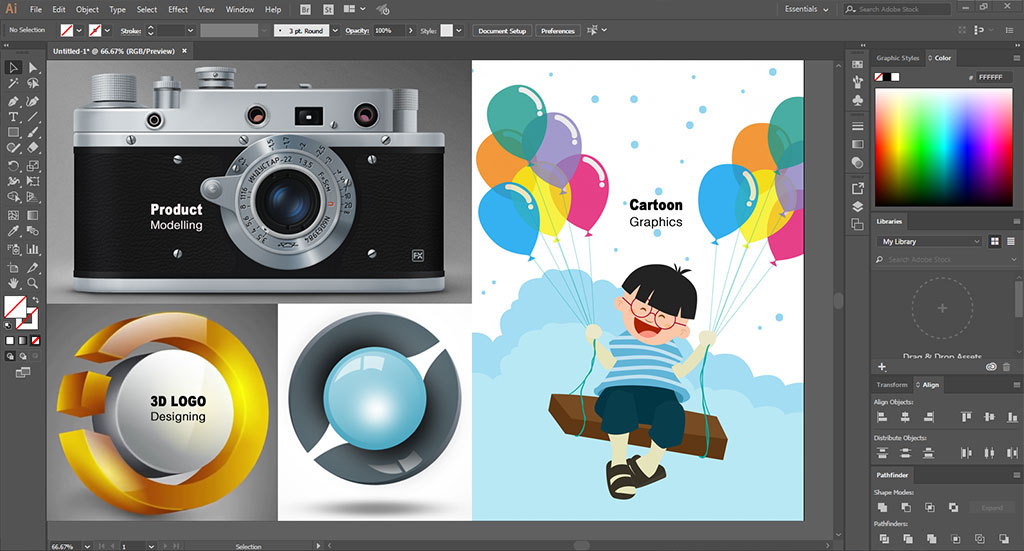 Course Name
Duration
Entry Requirement
Fee (SGD)
Adobe Illustrator
15 hrs
Basic Computer Knowledge
S$450
Time Slot
Please call 63360244/96503505
or
mail to info.sg@gteceducation.com
We also provides flexible timing to meet the customer's requirement


Your Request Submitted Successfully.
Frequently asked questions
No data found