Java - J2EE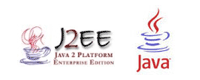 Unleash the power of java with hands on practical and project work. Real time classes with industrial experts. Basic to advanced level courses with fast and affordable prizes
We are providing courses in 3 different level, Basic, Advanced and Full Course (Basic to Advanced + Project Work).
For alternate time slots, please call 63360244/96503505
This intensive hands-on course explores Java language features and packages.
Java programmers will be able to take the content learned and immediately apply it to the problems encountered on the job.
The course begins with learning basic concepts of java like features of java, object oriented programming concepts and how they are implemented in java.
At the intermediate level there is discussion about packages, interface etc and at advanced level the course begins with a discussion of collections.
Database programming using JDBC is covered in depth.
Object serialization is covered. Distributed programming in Java is introduced.
Server-side Web programming is introduced using servlets, JSP's.
There is also discussion on EJb's and struts framework.


Your Request Submitted Successfully.
Frequently asked questions
WHAT IS THE PURPOSE OF LEARNING JAVA?
Java technology is a high-level programming and a platform independent language. Java is designed to work in the distributed environment on the Internet. Java has a GUI features that provides you better "look and feel" , moreover it is easier to use than other languages and works on the concept of object-oriented programming model. Java enables us to play online games, video, audio, chat with people around the world, Banking Application, view 3D image and Shopping Cart. Java finds its extensive use in the intranet applications and other e-business solutions that are the grassroots of corporate computing. Java is regarded as the most well described and planned language to develop an applications for the Web.
HOW IS IT DIFFERENT FROM C++?
Java is designed to be simple, object oriented and similar to C++ while removing the unnecessary complexities of C++. It is also said to be a robust, architecturally neutral, portable, interpreted, threaded, dynamic and high performance language. Java enables the development of robust applications on multiple platforms in heterogeneous, distributed networks. C++ is not truly portable nor is it suited to heterogeneous, distributed networks. While C++ excels in high performance, its powerful features and complexities are often the source of many errors.
IS JAVA EASY TO LEARN?
Java is easy to learn if the person already knows other languages like C,and C++. Without having the knowledge of these languages it needs more time to learn but not tough to learn because of many built in features.
WHAT IS THE ADVANTAGE OF LEARNING J2EE?
Java 2, Enterprise Edition (J2EE) is a powerful platform for building web applications. The J2EE platform offers all the advantages of developing in Java plus a comprehensive suite of server-side technologies.
WHO SHOULD ATTEND THIS COURSE?
This a training course, designed for Java developers who want to understand the architecture of a J2EE web application and/or implement a web application taking advantage of what J2EE brings to the table.
WHAT IS THE DELIVERY ENVIRONMENT?
The application can be developed using eclipse IDE,tomcat web server,jboss application server and mysql database.